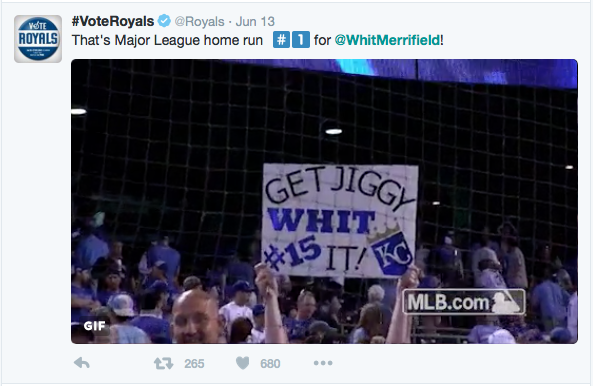 Why do I continue to highlight songs from my middle school days? I honestly have no idea. But it works. However, I can't take the credit for this one. Thank you, creative Royals fan and MLB.com. If only I could pull the freakin gif off of Twitter now. Ugh. Am I a Royals fan? No. Do I #VoteRoyals? No. Do I still get jiggy with it? Um, I'm not sure that I ever did. I don't know that Will Smith did, either. But in terms of a creeper, it's a perfect moniker for another MI that's already given the boot to one established veteran, and is proving that he's more than worthy of his spot at 2B. Since taking the leadoff slot in the lineup, the Royals are 8-2 in their past 10. Who we talking about?
Whit Merrifield, 2B (21.2% owned) – He's jumped up just above the 20% threshold with a 15.2+ added percentage. And smart of you if you already grabbed him. Is he cracking the Top 100 quite yet? No. But just barely. Consider him the honorable mention of the week. In the past 15 days Merrifield is tied with Robinson Cano and Paul Goldschmidt for the most hits in the majors (21), Rougned Odor for the most at bats (63), and is tied for 11th in total bases (33) while slashing .333/10/2/8/1. His BABIP is an unsustainable .400, but through the minors he's proven he can get on base (~.350 OBP past three years), provide a little pop and swipe some bases (48 SB in last 750 minors ABs). Hitting atop the Royals lineup should give him ample opportunity to rack up runs, and it seems that he's here to stay after the Royals DFA'd Omar Infante due to Merrifield's emergence. He may slow down a tick, but while he's hot I'd grab him, especially if you need AVG, R and SB help. Let's safely project .275/40/6/30/15 the rest of the way. I can get jiggy with that.
Enough creepin'…Here are those Top 100 Hitters for Week 12!
Please, blog, may I have some more?