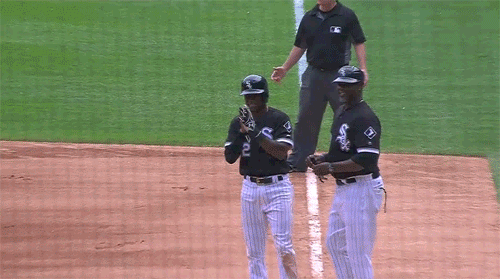 Can we talk about the SS position right now? Seriously, it's like 2004 travelled into the future, made like rabbits to triple itself, and then gloriously handed it's crown to the offspring that will eventually put them all to shame. Ok, maybe not to shame…there's no far less PED's, but sweet mercy if this crop of shortstops ain't something to behold. Let's give a little rundown: Seager, Bogaerts, Correa, Lindor, Desmond, Tulowitzki, Machado, Villar, Nunez, Miller, Segura. That's 11 guys. So, for a 12-tea standard league there's no use in reaching big time for a SS, as I haven't even mentioned Turner (he'll get the eligibility next year), Swanson (still two years away from becoming the next Jeter), Semien (could be the 2017 Schoop), Ramirez in his breakout, the young'n Russell or the sneaky good Crawford. However, there's another name vying for that 12th spot. Someone not so small (6'1″, 180 lbs) that fits the mold of one of the first four names mentioned and is blossoming into a pro hitter before our eyes. Someone worthy enough as a Creeper to get his name written in the tab of this article enough to relegate all the prior names to last name status so far. Someone named…
Want to take on Razzball writers and contributors in the great game of Fantasy Football? For Prizes? OH MY GOD YES. Where do you sign up? Great question! (Even though you didn't technically ask. I mean, you might have, but I couldn't hear you…) You can join here!
Please, blog, may I have some more?