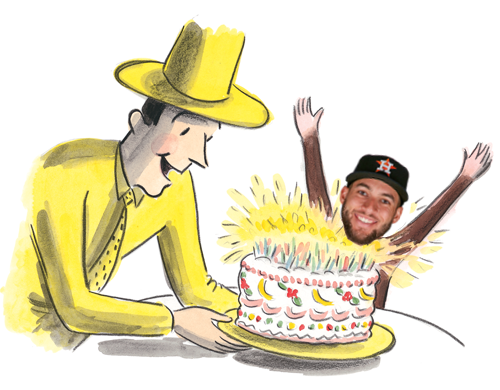 Springer springer hit a dinger. Actually he hit five of them in week 9. Until last week you might say that he was having a rather pedestrian start to the 2017 season. Coming into the week he wasn't even a top 30 outfielder with respect to points. As a matter of fact his starting percentage was slowly taking a dip, and as a result, there were quite a few angry managers staring at 45 points on their bench last week. I have a rule that I nearly always abide by in weekly league: Play your studs. Well if George Springer was curious about what it's like to be in the top 20, he now knows as his week 9 performance has catapulted him in the 17 spot.
Enough about this George dude from Houston, what you all really want to know is who won week 9. Actually there are probably only a small handful that really care. That would be those of you that had at least an outside chance of winning. Well wait no longer. The winner is the contestant that picked George Springer. Since there was only one of you that did so, the mystery winner should be easy to figure out. Ok, fine. I won't make you go back and do the leg work. The winner was Fungazi with 90 points. Fungazi picked George Springer (45), Carlos Correa (40) and Brian Dozier (5). Dozier's five points were meaningless considering Springer and Correa were the top two highest scoring players of the week. Second place was The Padre with 73 points. Like I said, no thanks to Dozier. Congrats Fungazi!
Here are the top 5 from Week 9:
Please, blog, may I have some more?