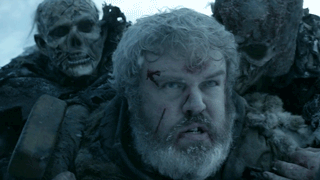 First off, hopefully you understand the connotation of this article's title from last Sunday. Potential spoilers ahead? Maybe? Second, I mean, damn it! Really, Bran? Ya had to do Hodor like that? Third, he really did hold that door. Standing O and hats off to you, gentle mini-giant. You own the episode. For the first time ever Game of Thrones fans experienced an emotional heart-wrenching of sadness more than just pure shock (see: Red Wedding). Oh, spoilers? It's been almost a week…and I've been dying to talk about it!
You know what hitters, ahem, have been dying to do off Gerrit Cole since May 2? Score runs. Cole's first five starts were sub-par, especially for a pitcher of his stature, but since that May 2 visit from the Cubs, he's rallied off 26 IP with just 3 ER. That's Arrieta-esque. He's holding the door shut to opposing lineups, even the most formidable ones. After his shellacking by the Cubs to start the month, he then travelled to Wrigley two starts later and threw a 8IP/3H/0ER/0BB/7K gem. He's heating up like Daenerys Targaryen at the end of Episode 4! Well, you know, without being naked of course. Cole's putting April behind him and ascending back to Ace status (and we're not worrying about that strange zero strike out start two weeks ago…). Don't be concerned about solid lineups he'll face; the Marlins and Angels have a .158 and .132 ISO the past 30 games. Nothing to write home about.
Home. Maybe Bran's going there now. Or may Jon's heading back there at the bidding of Sansa. As long as it's not Hardhome, I doubt he cares, though. Sheesh. Oh, and yes, I just geeked out on Game of Thrones. You're freakin' welcome.
Pitchers are listed in order by rank. Colors represent worst 8 or best 8 opponents according to team wOBA for last 30 days. And in honor of GoT, we'll name the tiers based on my favorite characters.
Please, blog, may I have some more?